Skalli Essentials lip brush is the perfect tool for achieving a flawless, natural lip look when paired with our Moroccan Aker Fassi natural lip stain.  Made with soft, synthetic bristles, this brush is gentle on the lips and provides precise, controlled application.
The tapered tip of the brush allows for precise application, particularly when working on the edges of the lips. It can also be used to blend and soften the lip color for a more natural-looking finish. The brush is easy to use and fits comfortably in your hand, making it ideal for on-the-go touch-ups. The dark color helps to prevent red stains on the bristles.
Buy it with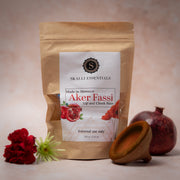 Share
Welcome to skalli essentials!
Unlock the Moroccan Experience.
From argan oil to handmade black soaps, all of our products are ethically handmade in the heart of Morocco, bringing you natural and organic skincare products that will make you shine and feel perfect in your skin once again!

Our unique collections have been a source of beauty and health in our family for many generations. They carry traditions and stories, beauty secrets, and a source of revival. These secrets traveled in time to our modern days and we are so happy to share them with you today!

Skalli Essentials is your oasis of beauty and health! We are grateful to have you here in our store! Thank you for visiting and feel free to contact us if you have any questions or wish to learn more about our Moroccan beauty secrets and natural products!